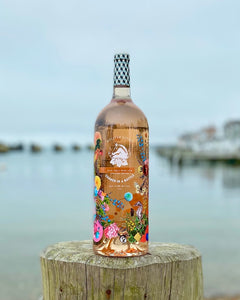 Wolffer Estate "Summer in a Bottle"
2020
Merlot, Chardonnay, Cabernet Sauvignon, Cabernet Franc, Gewürztraminer, Sauvignon Blanc, Pinot Meunier, Pinot Blanc
Eastern Long Island, New York

This rosé has lovely balance between the fresh fruit, fine tannins, good minerality and graceful acidity. It is the visual and taste portrait of the Hampton's high summer. Serve chilled, solo or as a complement to almost any food.
Suggested Pairing:
At the beach!!

Wolffer Estate is located in the Hamptons on Long Island -- the only winery on the South Fork. This American winery with classic European character is a spectacular property where the 55 acres of vineyards border their 100 acre horse farm & stables. The maritime climate and Bordeaux-like soil conditions cause Bordeaux varieties to thrive in this region. The estate has been certified sustainable for 6 years.