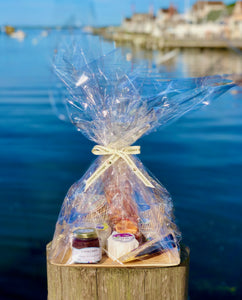 Start your evening with a delightful array of artisan cheeses & accoutrement from Current Vintage. We give you all the ingredients for the perfect platter.
Artisan Cheese Plate Small: (4 - 6 ppl)
Approx 1lb cheese.
Sample Platter:
Blue Ledge Crottina (goat), Brillat Savarin (cow), Barely Buzzed Cheddar (cow), Fig  jam, Dried Persimmon Slices, Croccantini Crackers, Grapes, Sliced Salami, Marcona Almonds.