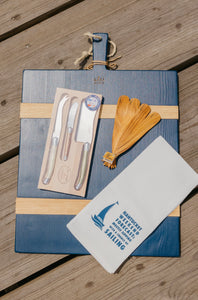 Navy Wooden Charcuterie Board with wood inlay. Perfect for your next party!
Serving Board Care Instructions: 
To prevent and resolve surface stains, wipe the surface clean with hot soapy water immediately after using and then dry with a clean, dry dish towel. Never submerge your wood board in water and avoid abrasive cleaning products.
Weight: 4.0 lbs
Length: 22 inches
Width: 16 inches
Height: 1 inches
PRODUCT DESCRIPTION
Country: Hungary
Color: Navy